Every single social media channel has a certain etiquette that needs to be followed. Twitter is no exception. When used properly, Twitter is direct marketing at its purest. Responding to someone's tweet is basically talking directly to that person.
In my post about using Twitter as a listening platform, I compared Twitter to a big party where there are a bunch of conversations going on. In the post, I suggest that if you're at a real party and you overhear a conversation where some folks are talking about vacationing in the town where your VR is located, you'd likely insert yourself into the conversation.
Let's stay with the party scenario. And let's say you own a chalet near Okemo Mountain in Vermont… You're at the party getting your groove on, when you hear a group of folks nearby talking about a ski vacation at Okemo.
How are you going to chime in? Are you going to rudely force your way in to the conversation and say, "Hey, when are you going to Okemo? I have a chalet up there, you should rent it!"
I hope not.
You'll probably listen and wait for the right opportunity to chime in. Let's say the group is talking about breakfast joints in Okemo. And you know the Waffle Cabin is a hot spot to grab breakfast, so you lean in to the conversation and say, "I heard you all talking about breakfast near Okemo…. did you ever try The Waffle Cabin?"
Boom! You're in.
Whether they know about The Waffle Cabin or not, you're going to get welcomed in to the conversation because you've either established commonality or have piqued their interests with some new insider info.
This exact same strategy applies to Twitter. If you know how to tactfully join a conversation in person, you can do it on Twitter.
Here's an example. I just searched Twitter for the word Okemo and this is one of the first Tweets that came up: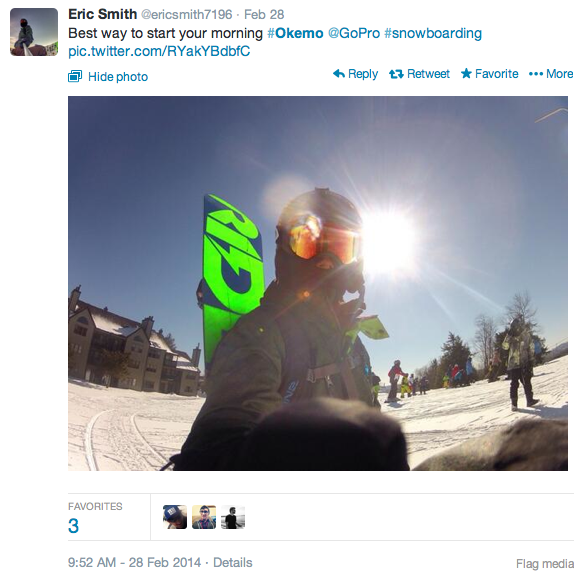 This Tweet is from a snowboarder starting his morning at Okemo. This is a perfect opportunity for you to engage someone who enjoys the area where your VR is located.
Based on what I just told you, let's look at how you should reply.
The wrong way – the hard sale: "Next time you go to Okemo, you should rent my place – www.my.vrbo.listing.com"
The right way – share experience: "Nice! I was up there last week. Conditions were awesome. Enjoy! #Okemo #snowboarding"
It's really just that simple. This person will appreciate the fact you shared in his experience. Will this convert to a rental? Depending how the next series of Tweets go, it might.
NOTE… If a person does start Tweeting back to you, you should follow them. This way, you can keep an eye on their Tweets on your homepage and chime in when they talk about your VR area. This will keep you top of mind.
In my next post, we'll talk about choosing your avatar and username. Choosing these things carefully will improve your ability to use Twitter effectively.